You don't have to be physically present in Italy to enter the italian lottery. Just buy a SuperEnaLotto ticket online, pick 6 random numbers between 1 and 90, and if you hit all 6 numbers, the jackpot is on its way! SuperEnaLotto is a italian lottery which have 3 draws in a week, on Tuesday, Thursday and Saturday, giving you not one, not two, but three chances a week to make your jackpot dreams come true.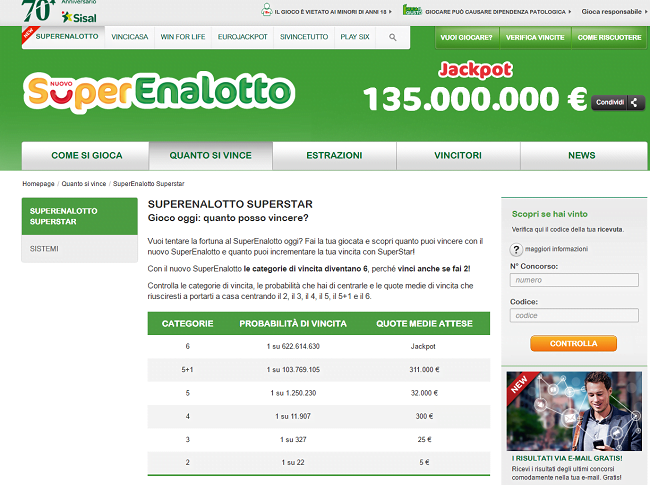 How to buy Superenalotto tickets?
You can buy SuperEnalotto tickets from the comfort of your own home. They can be purchased on the website of lottery. Participants always receive their lotto ticket in their account before the draw. To play, you need to select six numbers from a range of 1-90. There are several ways of picking numbers. You can do it with a so called quick-pick, manually or with 'lucky numbers' that you've saved in your account. Perhaps your favorite numbers will make you a millionaire!
It's not necessary to buy an expensive ticket to win. In October 2016, one player payed 3 euros for two lines and won 163,538,706 euros! It was actually the second largest italian super Jackpot in history. He even added 2 million extras because of a matching SuperStar. It was definitely his lucky day!
SuperEnalotto draws
At Tuesday, Thursday and Saturday at 7.00 p.m. thousands of Italians lottery players are in front of their TV. They're watching the SuperEnalotto drawn, which offers big prize money every week. The lottery uses six prize categories in total. Players in the first categories win the highest prizes and perhaps even the Jackpot. You can increase your chance of winning by selecting one-time entries or a systematic form. Choose which way of playing fits you best.
Draws 2023:
What is highest jackpot ever
The Italian National SuperEnalotto has been held in Italy for over 25 years. The biggest jackpot to date is in February 2023, with a prize of more than 371 million euros, won by a winner pulling out a lottery ticket. the ticket was sold in a group bundle. The jackpot will be shared among several participants
The minimum jackpot amount is €2 million, but an additional amount of €500,000 is "rolled up" each time the jackpot is missed. With no progressive jackpots or rollover caps, there really is no limit to this jackpot!
One Million price with the SuperStar
The SuperEnalotto is not the only lottery that offers big prize money every week. It also has popular extra version that's known as the 'SuperEnalotto SuperStar'. It draws an extra number that gives the chance to win a bigger prize. The SuperStar multiplies prizes sometimes with 25 to 100 times! Perhaps even more interesting is the fact that you can win 2 million euros above the Jackpot. There's also an addition of 1 million euros for second-prize winners. To be this lucky, you need to have the correct numbers for the traditional Jackpot ánd the SuperStar.
Enjoy Vincita Immediata and the Jolly Number
There's even an addition to the rStar called 'Vincita Immediata'. You win 25 euros when at least one of your numbers match with the so-called 'Quadrato Magico numbers'. The money will be immediately added to your account. Or enjoy an extra bonus with the so-called 'Jolly Number'. This is an extra number that is drawn together with the winning numbers of the lottery. You don't need this bonus to win the Jackpot though. However, it decrees the 5+1 and functions a boost to prizes in lower categories.
The Jackpot knows no limits
Many people have become millionaires thanks to the SuperEnalotto Lottery Jackpot. This lottery uses no limits for the Jackpot money, which makes it definitely worth trying. The Jackpot starts with a minimum amount of 1,3 million euros and can be as high as 370 million euros in 2023. It reached this record of prize money in October 2010 after there was no hit for nine months. Back then the tension and excitement of lottery players reached a peak. Even 'Queen of Pop' Madonna, who has an Italian background, commented on it!
Notification and gambling tax
Hopefully you're one of the lucky people winning prizes at the SuperEnalotto. You always receive a notification by e-mail or SMS when you've won a prize. Winnings to 2500 dollars, 2366 euros to be precisely, are automatically added to your theLotter account. There's a gambling tax on prizes above 100 euros. You don't have to pay tax when the amount of money is lower.
Lucky winners
Some players are currently enjoying their SuperEnalotto prize money. Perhaps they're living a luxurious lifestyle in a nice country, or driving in their newly-purchases cards. One of them is a man from Latvia, who won 578,080 euros in the SuperEnalotto Draw in 2013. Another person even won 74 prizes in total because he had so many matches! A prize worth 479,123 euros was his reward. Sometimes it's also a good idea to become a VIP-member. In August 2016, a VIP player from Belgium won the incredible amount of 47,578.79 euros. He or she definitely lives like a VIP now.
Guaranteed Jackpot win
The last win of the SuperEnalotto Jackpot took place quite recently, at February 2017. A participant had a ticket with six matching numbers and won an amazing Jackpot of 93,720,843.46 euros! A week later there were no Jackpot winners. This is why the recent draw had a guaranteed Jackpot of 12,7 million euros.
How do you win SuperEnalotto jackpot?
When you play SuperEnalotto, you have 6 winning categories and, thanks to the WinBox Instant Wins, you enter the draw immediately for a prize of up to €500.
What are the winning categories of SuperEnalotto?
Points 6: if you guess the 6 numbers of the six drawn.
Points 5+1: if you guess 5 numbers from the six drawn + the Jolly number.
Points 5: if you guess 5 numbers from the six drawn.
Points 4: if you guess 4 numbers from the six drawn.
Points 3: if you guess 3 numbers from the six drawn.
Points 2: if you guess only 2 numbers from the six drawn.
The six most common numbers from SuperEnalotto and SuperStar
The following table is an extract from the previous tables and shows the numbers that occurred most often in the winning SuperEnalotto combination, including the most common SuperStar number.
Number 77 – 86 – 6 – 85 – 49 – 81 – 47
The six least common numbers
The following figures is an extract from the previous tables and shows the numbers that occurred the least often in the winning SuperEnalotto combination, including the least common SuperStar number.
Number 60 – 18 – 36 – 50 – 23 – 53 – 30